BUTLINS PWLLHELI 1965 1966 1967
THE BUTLIN STOREY
We are delighted to welcome our latest Redcoat to contribute to this website - GAIL STOREY:

GAIL STOREY
My official Redcoat portrait - Pwllheli 1967
Our grateful thanks go to GAIL STOREY for sharing the following photos and memories.
I was a Butlins Redcoat at Pwllheli in the years 1965, 1966, and 1967. I was a student at the time, and always looked forward to the summer and going to Pwllheli. I was interviewed at a hotel in Nottingham and then later received the letter to say I was to start at Pwllheli. A train ride, a uniform check, and then it was the real thing.
Just to prove that not everything was in black & white in those days.
[BOTH photos from Pwllheli 1965]
At first it was very strange to talk to campers, but once I had settled in it was the best job I have ever had.
I learnt many new dances; how to organise competitions - including darts, snooker, and whist. I also called Bingo.
THAT'S ENTERTAINMENT

People were very easy to entertain in the mid-sixties. You just got them in a line, and told them to kick their legs up.
This went on for hours - anytime of day or night. It was hilarious! [AJM]
Hello "A.J" - After our chat, it brought back more memories:
Can you remember the bus trip to the grave of Lloyd George? The best coffee and scones in the cafe there?
I used to do a trampoline act in the Redcoat Show [Smile! darn you - smile!] and also gave demo's
on the green in front of the Gaiety Ballroom.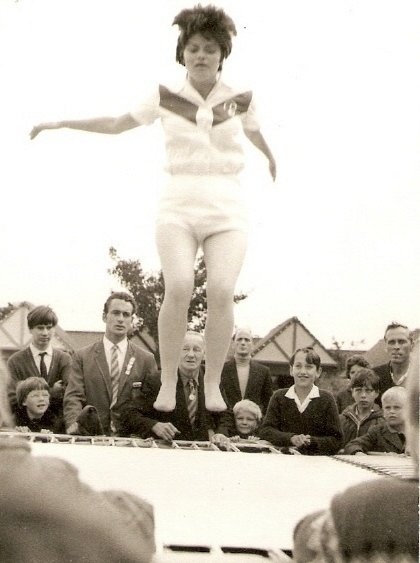 Anyone fancy a jump?
I loved the Ball Games on a Friday. There was always a lot of competition between the Reds for their teams.
I used to practise with my team throughout the week.
Fun & Games with the Redcoats - or "How to get injured and ruin your holiday."
I was so lucky as I met Tommy Cooper, Jimmy Jewel & Ben Warris, The Morton Frazer Harmonica Gang,
the Amazing Fogel, and many others. Was Johnny Nock still at Pwllheli when you were there?
I also remember Flo who tended to mother me. I'm sure Paddy and Irish were there when I was.
It was a sad day when I had to get a teaching job and settle down. I often wonder what happened to the many campers I met, as well as the Redcoats. Even now when I hear the song "We'll Meet Again" I think of Friday night in the Gaiety ballroom.
What memories!
Continue scrolling down to see more of Gail's memories:
We all know that "H" from 'Steps' was a Butlins' Redcoat. Well here are the original steps!! [AJM]
As the words to the song go: "Where the boys are, someone waits for me."
FAMILY FRIENDS - FRIENDLY FAMILIES

There were always families who wanted to adopt you. "Come and stay with us in the Winter," they'd say.
They used to get a shock when I turned up, and kipped down for a few months. [AJM]
MORE PWLLHELI REDCOATS

The compere on the right is Ken Hopson. Thanks to this website for putting me back in touch with him. Gail
I have many happy memories and would love to meet up with some former Redcoats from those years.
Gail Storey
If you wish to contact Gail, please email her by clicking on the link below:
SEE ALSO
MARRIOT'S MEMOIRS - PWLLHELI 1966
o-o-o-0-o-o-o