Inside, the twelve pages displaying the months are complemented by a mixture of indoor and outdoor scenes from various Butlins Camps. But all is not what it seems, for the photographs inside actually originate from the 1973 season - some earlier. As my main interest is in Skegness, I have reproduced those pages for you below:

Here's my mate Shane Norwood, who was at Skeggy for the 1972-1976 seasons.
(I believe this photo was taken in 1972.)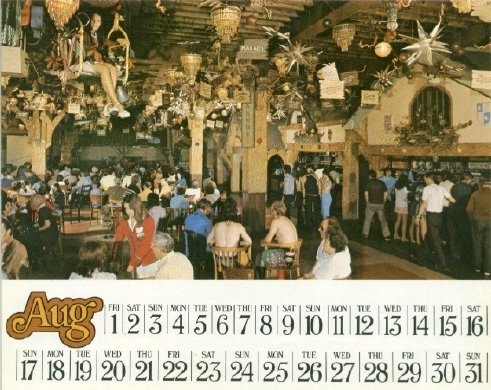 This is taken in the Pig & Whistle bar, at Skegness. In the foreground is a
gorgeous girl named Carol, who was one of the Revue Dancers. Look up
above, and you'll spot another very pretty Revue Dancer, Lynn, sat in one of
the carriages, suspended from the mini-monorail, which ran around the bar.
I believe this is the Indoor Pool, at Skegness, but then they all look similar.
The Redcoat Lifeguard, squatting down on the partition wall, certainly
looks like John Aran, who was there in 1973.
Here on the Skating Rink at Skegness, can be seen [I believe]
Chief Redcoat - Norman Cox, with Redcoat Eileen. 1973
And last, but by all means least, is ME - 'A.J' Marriot - with two kiddies on the
roundabout. Just think, those two little girls will be over fifty-years-old now!
(see also the link below 'Butlins Skegness 1973 Postcards')
See also:
1973 BUTLINS SKEGNESS REDCOATS
A.J MARRIOT SKEGNESS 1973 POSTCARDS
o-o-o-0-o-o-o