BUTLINS CLACTON 1949 to 1960
GAY BROWNLEY
Here is another in our series of FeatuRED.
This time around our chosen REDCOAT is GAY BROWNLEY who worked at
BUTLINS CLACTON 1961 to 1964
Gay has such a great history with Butlins, that we are about to serialise it:
EPISODE 1 - The Winner Takes it All (1949-1960)
1949
GAY BROWNLEY
Kiddies Holiday Lovelies (under 6 years)
You may be wondering why Redcoat Gay doesn't appear in the above photo. Well she does, as Gay's history with Butlins goes back twelve years before she actually fulfilled her dream and became a Redcoat.
Above, Gay is No.30 in the "Kiddies Holiday Lovelies" competition, Clacton 1949, which she went on to win. Whereas every Redcoat has supervised numerous competitions, this young lady firstly participated in them, and actually WON most of them, as you will soon see.
1951
Gay, No.70 on the right, coming 3rd in the Fancy Dress competition,
with it's theme The Festival of Britain.
The Brownleys went to Butlins Clacton on a regular basis, and below are some of their family snaps, along with official Butlins photos.
1951
Redcoat Kay, being snuggled
by a Groucho Marx look-alike.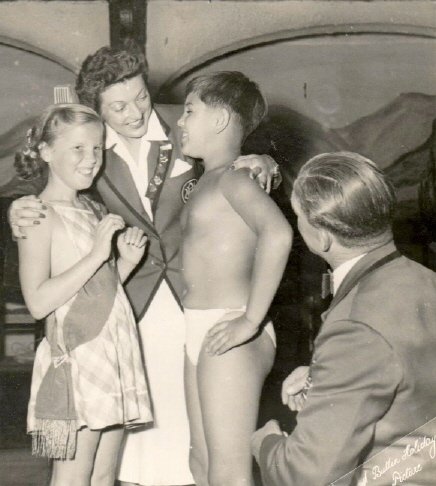 1952
Gay, as winner of the "Junior Miss" competition,
meets the winner of the "Young Tarzan."
1954
Gay, her father, and sister having a shower.

1954
Piggy-backing a boy jumping into the pool.
1954
With sister Jill on the boating lake.
1954
Winning the 'Junior Miss' competition - AGAIN.
(6 - 14 years)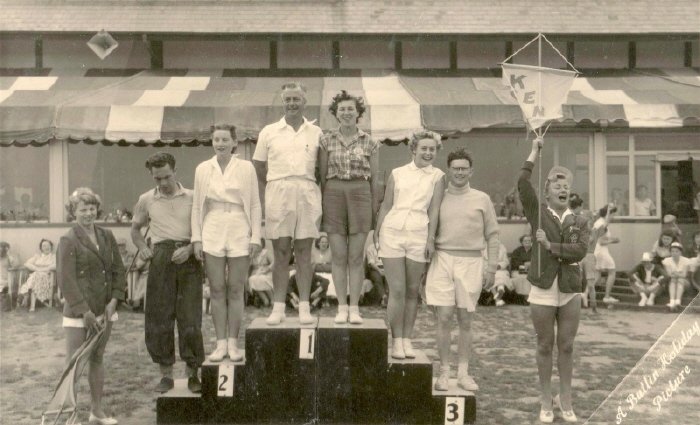 1954
And it wasn't just Gay doing all the winning. Here we see
her mum and dad on the winner's rostrum at the Sport's Day event.
1954
This time, Mr. & Mrs. Brownley are with their winning Square Dance partners.
(3rd and 4th from right)
1957
Gay, centre, posing with other winners from the week's competitions.
Behind, in the clown's hat, is 'Uncle' Tommy Keele.
1959
That little girl is now a lovely young lady, and
proves to be a great attraction to Redcoat Chuck.
1959
Gay's looks and dress sense combining to
win her the title of MISS SHE.
1959
Ken Arnold was another Redcoat who liked to spend
time with the Brownleys. It's not hard to see why.
1960
That pretty face again stands Gay in good stead, as she wins:
'The Girls with the Best Cared for Complexion' sponsored by LUX.
(That's a genuine title, as the banner above the backdrop will confirm.)
1960
Redcoats Mike, Roger, and Harry are captured for the Brownleys' family album.
1960
Redcoat Chuck looking dapper
on his day off.

1960
Camp Comic Roger finds his bike
useful for catching pretty girls.
Gay also came second in the "Holiday Lovelies" Competition
- an event which was captured on colour film, and then shown in cinemas.
The clip can be found on the recent TV documentary "Blackpool to Benidorm,"
which was narrated by Ruth Madoc, and included the history of Butlins.
NEXT EPISODE
Gay fulfills her ambition, and becomes a Redcoat.
BUTLINS CLACTON 1961 - Gay Brownley
See also:
BUTLINS CLACTON 1962 indoors - Gay Brownley
BUTLINS CLACTON 1962 outdoors - Gay Brownley
BUTLINS CLACTON 1963 - Gay Brownley
o-o-o-0-o-o-o