BUTLINS CLACTON 1962
GAY BROWNLEY
EPISODE 3 - Kids Come First
In Part 2 we shared Gay's first season as Redcoat at Butlins Clacton 1961.
In this episode we take a look at her during her second season.
TICKET TO RIDE

Pam Keown and Gay supervising
the kids aboard the miniature railway.

You have to ask who is having more fun on
these rides - the kids, or Pam and Gay.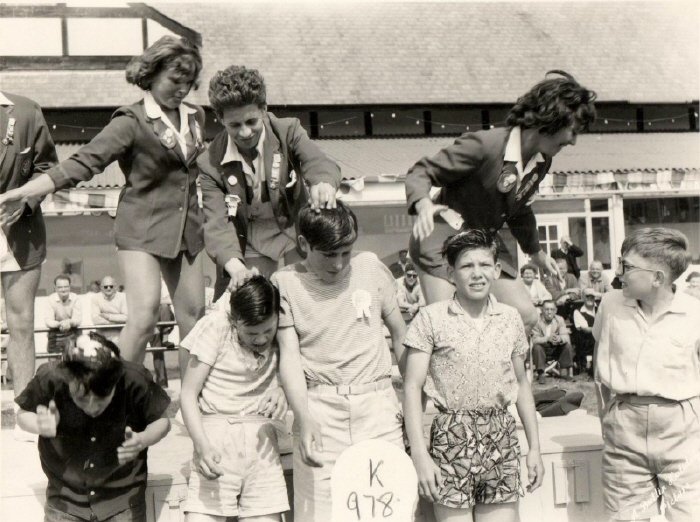 These young lads volunteered for the games on the sportsfield, to get near the
very attractive Redcoat girls - but all they got was broken eggs and broken hearts






The winners from the above games.
Hope the prize wasn't a bottle of egg shampoo.

It's hard to force a smile when a chilling wind is blowing
in off the North Sea and freezing your face muscles.
Here's another activity you don't want to be doing on a cold day. Brrrrr!
Bottom left: Tricia Kerridge and Terry. Middle right Gay and Pam Keown
When you've spent all day looking after the kids, you need time to relax with your girlfriends.




Back left -Gay. Seated centre - Pam Knight

Pam, Gay, Pat Knight, Anne.
Sometimes, the girls sneaked away to be with a boy.
Here, Pam has a rendezvous with Tim.
If you thought there was no colour in 1962 - think again.




Young camper David Walker, and Camp Compere Mike Grogan, have
a bit of colour brought to their cheeks by the presence of the lovely Gay and Pauline
NEXT EPISODE
Gay returns for the 1963 season
BUTLINS CLACTON 1963 - Gay Brownley
See also:
BUTLINS CLACTON 1949-1960 - Gay Brownley
BUTLINS CLACTON 1961 - Gay Brownley
BUTLINS CLACTON 1962 indoors - Gay Brownley
See also: