BUTLINS HOTEL MARGATE 1963
Queens Hotel, Cliftonville
We are sincerely grateful to the photographers who took these pictures,
and preserved them as windows to the past, and to TONY WALKER for sharing them.
Introducing Redcoat 'Tony'
Here's Tony looking very excited at
the prospect of the next entrant in
the "Miss She" competition
popping through the archway.

TONY WALKER
In more pensive mood, accompanied by his
harmonica. Tony was actually the 'British Champion
Harmonica Player' - two years running. And it's
hard to play the harmonica when you're running.
BUTLINS QUEENS HOTEL MARGATE 1963

Here's Tony informing a coach-load of guests
that their rooms have been double booked.

QUEEN'S HOTEL - MARGATE
And here's the hotel they've all been thrown out of.




The guests are about to vent their anger
by throwing Tony up into the air.

A nurse tends to him after he comes crashing
down to earth, and flattens a small boy.
Some of the guest show off their worst features,
while Tony shows off his best one!!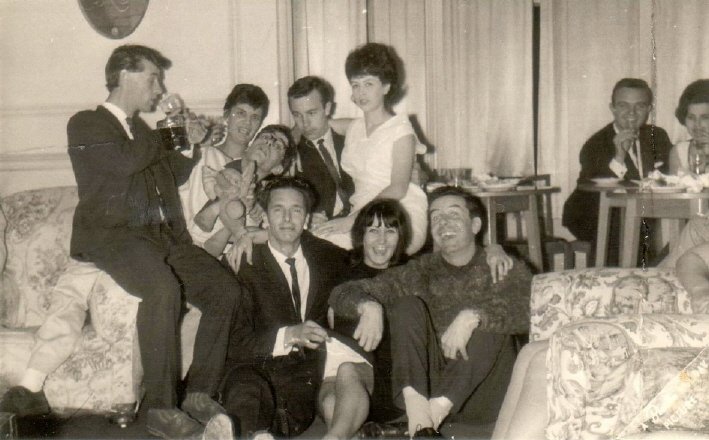 Some of the Entertainment Staff enjoying a night off.
TONY is seated centre.
To discover who the lovely young lady is on his lap, see below.
| | |
| --- | --- |
| | A Beautiful Bevvy of Baby-Carers |
I wondered why Tony had so many photos of the Butlins Margate nurses in
his collection. That was, until I saw this photo of the lovely nurse, PAT.
(also pictured far left in the photo above left, and far right, in the photo above right.)
And if you're wondering if they're up to something naughty - don't worry! Tony made
an honest woman of her, and they're still happily married these forty-five years on.
Who said 'Holiday romances never last?'
o-o-o-0-o-o-o
BUTLINS MARGATE 1957 - 1959 circa
BUTLINS MARGATE REDCOAT TEAM 1960
BUTLINS HOTEL MARGATE 1963 PROGRAMME
BUTLINS HOTEL MARGATE 1964-67 - Johnny Mans
See also:
BUTLINS MINEHEAD REDCOATS 1962 - Tony Walker