MARTIN'S MEMORIES


.
Every season, during the last seventy years, thousands of children have left Butlins vowing - 'One day, I'll be a Redcoat.' Happily, for many of them, the dream became a reality. Once such lucky camper is the fourth in our series on REDCOAT PROFILES.

MARTIN KELLEHER
in his own words

It all started in the summer of 1979. I had a mobile disco and enjoyed being in the spotlight and the attention that came with it. A friend and fellow DJ - Nick 'The Baron' Gilchrist - had recently come home from a season at Butlins Skegness, and told me of the fantastic time he'd had, and how he'd been asked to return the following year .




Nick duly went back to Skeggy for the 1980 summer season and, after a week or so, he rang and said they were in need of a Resident DJ/Entertainer to join him, and was I up to it? Well! not one for saying 'no' at the time, I packed a suitcase and my box of records, and said farewell to my girlfriend Claire, promising, 'I'll be back' (I gave that line to Arnie) and off I went.
A photo of me and my Dad that was taken
at Skegness in 1966, so I suppose this is
where it all started for me.
I was 6 years old and at the start of my
long journey of good memories.
Martin Kelleher
I`d been to Skegg, Minehead, and Pwllheli for of our summer holidays, as a child, and still savoured the memories Being from a one-parent family (I lost our mum as a small child) my dad felt it was the ideal place for us. He'd book us into a chalet with full-board and, on arriving, he'd collect the keys and place them on some string around our necks and tell us what time to meet up for our meals. If we weren't hungry, then we'd still go to the dining room and tell him where we'd be.
Our first pocket money was spent on buying an autograph book. We'd have contests, with the friends that we made within the first few hours of arrival, as to who could get the most autographs from the Redcoats. We scouted the camp in search of our heroes and, with a slight pull on their jackets, we normally got there attention - together with a smile. We'd made a friend for life .
At Butlin's Skegness, in 1966, Martin was just a small face,
in a large group of kids.
Just 14 years later, he was a high-profile Redcoat,
and the centre of the crowd's attention.
(That's Martin - behind the '1st' card.)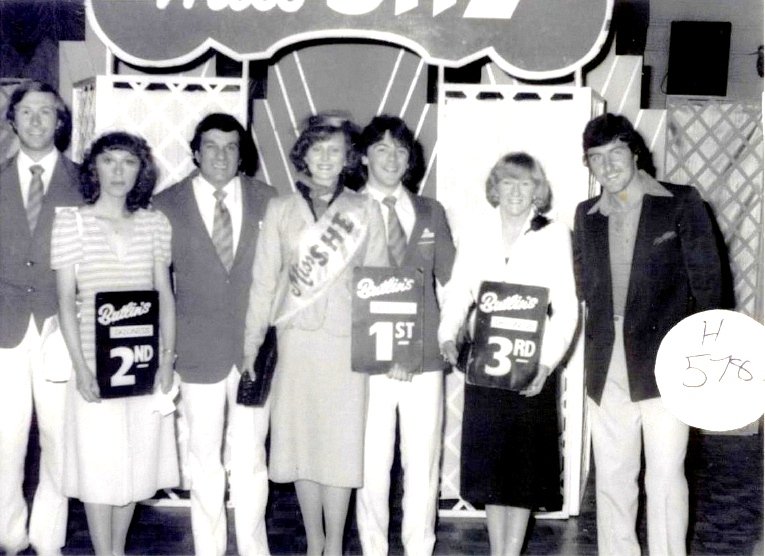 Those memories of the Reds of the sixties and seventies left their mark and, on arriving now as a potential Redcoat myself, I was in a place that was full of smiling faces and I felt 'This is it.' I was to meet the Entertainments Manager, Mr Brigden. 'RED' (colour of his hair) as he was later to be known, but we always addressed him as 'Mr. Brigden.' He called all the Redcoats in every morning for a pep-talk to start the day off, and he'd always finish off his meeting and inspection with these words 'Remember! a Butlin's Redcoat is never properly dressed without a smile.' He was a fantastic leader and motivator for all us Redcoats.

Our day started at 8am breakfast with the guests, and it was all go from then on in. I think we went by the Entertainments Office before nine, to get our schedule for the day. Normally we were split up so that the guests would find us spread through the week at different venues, even though we all had our 'resident locations' - mine being the Disco.


Our schedule didn't leave much time for lazing around. By the time it was six in the evening we'd been and changed into our evening wear, which consisted of our frilly shirts and black bow-ties. It was now that we were running on adrenalin. Our evenings were full of fun and laughter, and the occasional flirt in the shadows, but we hadn't to favour any individuals. No! that wasn't the way for a Butlin's Redcoat to behave (I never managed that one so well.) Everyone treated us like stars. We were looked upon as idols by the youngsters, and their parents treated us with respect. By the time it was 11pm we'd be finished for the day - a bit cream-crackered, but that adrenalin works wonders.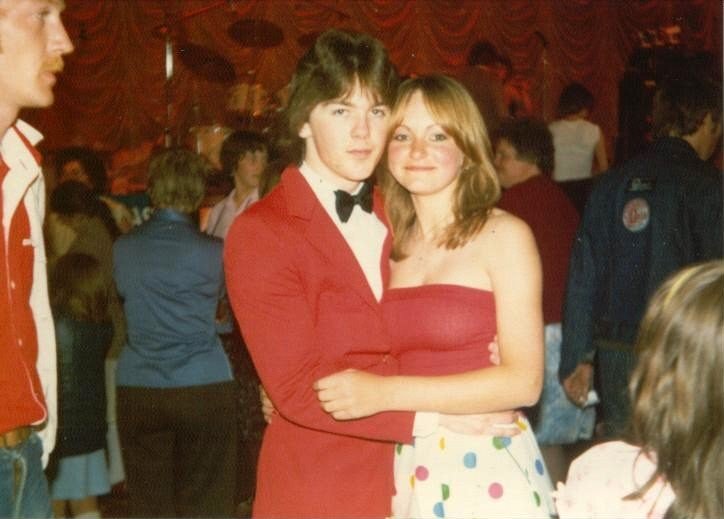 Martin tells us: 'We hadn't to favour any individuals,' but who
could resist any individual as gorgeous as this young lady?
Our working week would be from Tuesday to Sunday, and on Monday it was payday. If I remember correctly my pay-packet had £27 in it. Fantastic!! A few of us would get together and head off into town to 'The Mardi Gras' club on the sea front, and party and dance till late, but we'd always get back for our breakfast and the next day's escapades.
I can remember halfway through the season, I'd been burning the candle at both ends and was taken aside and given a talking to, and asked if I really wanted to be a Redcoat. I was devastated and pulled my act together for the remaining time. Today I look back thinking how lucky I was to be a part of that fantastic history.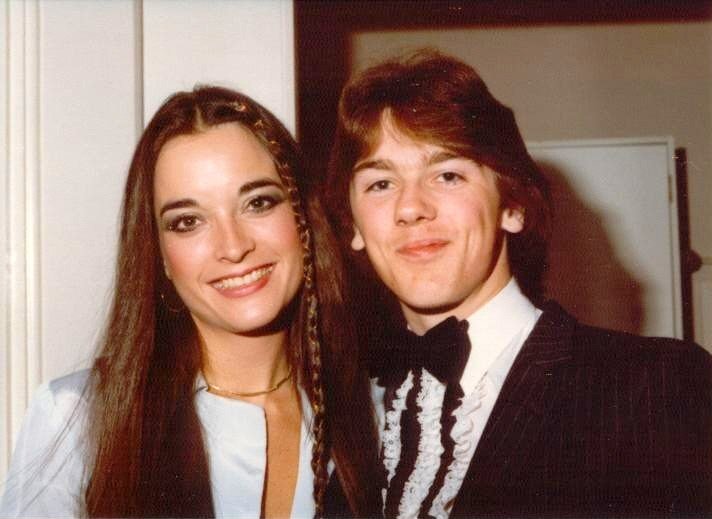 And it wasn't just young, attractive holidaymakers who Martin got to flirt with.
Here he is with the absolutely gorgeous and talented singing star Diane Solomon who,
just five years after having her own TV show, found herself in Cabaret at Butlins.
I left at the end of the summer season of 1980 with so many great memories, and friends that I've never forgotten. I carried on my career travelling to tour Norway as an 'International Disc Jockey' and, like many others, found my better-half and settled down after my roller-coaster ride came to a halt in 1990.
Together with my wife Hanne (now deceased) we moved to her home town on the Lofoten Islands off the north coast of Norway (a group of Islands just above the arctic circle). We took over the running of the family shop and petrol station, and introduced a new way of customer service that was soon noticed by others. Our petrol station was in the Shell group. In the '90s they had evaluation control for their 460 stations around the country, and twice we scored highest of all for giving the best customer service. This we achieved, I believe, because of what I'd learnt from my days at Butlins - which was how to appreciate each and every customer for who they are; always give them a genuine smile; look them in their eyes as a friend; and always make them feel welcome.

'Thank you! Butlins'

Keep Smiling
Martin
Martin's last words on his time as a Redcoat at Butlins Skegness were:
I can safely say that every day came with smiles and just the odd few tears, but mum and dad,
or one of the fantastic team of Redcoats, were always near by.
What a time it was - from early in the morning to late at night we Reds were driven by adrenalin,
and the smiles we received from every holidaymaker that we met.
Martin
BUTLINS SKEGNESS 1980 - Martin Kelleher