I WAS A BUTLINS BLACKPOOL REDCOAT
(BUTLINS METROPOLE HOTEL, BLACKPOOL 1974)
BUTLINS METROPOLE HOTEL
BLACKPOOL 1974
Pictured L-R:- Nick Horne, Alan J. Marriot (me); Sean Lennard
My two great loves in life are Butlins and Laurel & Hardy (or is that three?)
Imagine my joy, therefore, when I discovered that Laurel and Hardy had
actually stayed here, in August 1932. (For details of how these two
Hollywood legends happened to be in Blackpool, you need to buy a
copy of my book "LAUREL & HARDY - The British Tours")
I actually have a photo of Stan and Ollie,
standing on the balcony you see behind us.
(Photo taken July 1974 - courtesy of the resident photographer, Joe.)
In July 1974 I was half-way through my second season as a Butlin's Redcoat at Skegness when the Entertainment Manager, Alan Ridgway, put me in a trilemma. He said I could go to Butlins Pwllheli and be the Chief Redcoat; go to the Metropole Hotel in Blackpool as the Compere; or stay at Skegness and be the Camp Compere.
I had absolutely loved my 1973 season at Skeggy. It had been the most enjoyable experience of my life but, here in mid-74, so many good things were missing. Only five weeks earlier we'd lost the Princes Ballroom complex in the fire, which had almost literally ripped the heart out of the Camp (go to: - THE BIG FIRE of 74). Just after that, three of my best Redcoat pals had left - Shane Norwood, Steve Johnson, and DDDave Roberts. I was also missing my Redcoat girlfriend Jane, from 1973. So, as my raison d'etre for being a Redcoat was to get as much stage experience as possible, I chose Blackpool and, on Saturday 13th July, went there by train.
METROPOLE REDCOAT PARTY
At the "Longboat Restaurant," Viking Hotel, Blackpool.
Pictured L-R: Bill, Ricky, Mary, Me, 3 Olde Tyme Dancers, Sean,
Les Brown (Organist) his wife and daughter, Nick, Michelle.
Nick & Michelle left to get married. Yet another Redcoats' marriage chalked up to Butlins
When I arrived I was informed that the previous compere had walked out. "Here are his trousers. Put them on," ordered the Ents. Manager Ricky G. I took one look at them and said. "I'm not wearing them." "You WILL wear them," he said. "I won't I said," and I never did. The Compere Comedian to whom they had belonged was Mike Jerome, who is still going strong to this day. But, if I tell you that Mike weighs in excess of 20 stone, and I am literally half that weight, you'll understand why I chose to wear the trousers I'd brought with me from Skeggy. However, Ricky didn't appreciate what he thought was insubordination. Little did he know that during the next few months I was about to disagree with most of his proposals. I'd gone from one Ents. Manager whom I loved and respected, to one whom I was never going to like or agree with. So much for "The grass is greener ....." principle.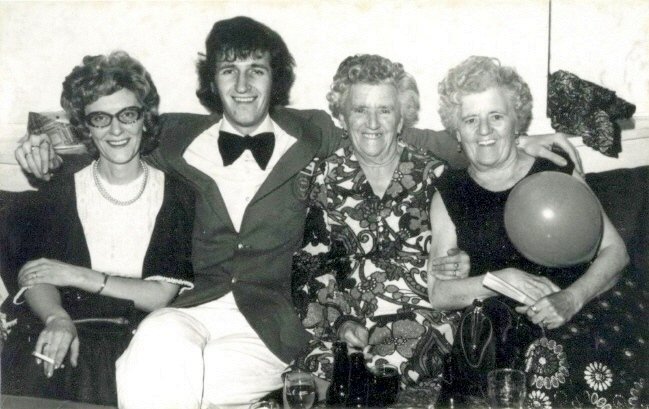 The abundance of young nubile maidens I'd encountered at Skegness,
were in short supply at the Metropole Hotel.
[I don't know how that cat came to be sitting on my head.]
During the next 12 weeks I got my desired stage experience, and broke in an estimated three hours worth of working gags. The guests loved me, which may be I let go to my head, as some of the other Reds didn't share their feelings. Maybe I should have chosen the stage name "Marmite" instead of "Marriot." Things came to a head the second week in November.
Mercifully, there were still flowers to
be found blooming in the desert.
It was the Finals of the Glamorous Grandmother Competition, and Tony Peers was brought in to compere the event. When you're a young ego-filled comic just starting out, you don't want replacing by someone you believe you can match, if not better, in the comedy stakes. That was problem No.1. Problem No.2 was that we Reds were told that we all had to work until 2am, partaking in a Sing-along and other raucous activity. Let me explain that the Glamorous Grandmothers were noted for being the heaviest set of drinkers from any of the Competition winners - and that includes male darts and snooker players - so the hotel was determined to let them cane the bar.
Here's me compering a heat of the Glamorous Grandmother Competition.
If I was good enough to compere the Heats, why couldn't I do the Finals? - was my beef.
Problem No.3 was that, the following day, I was on Radio Butlin duties. This was an ABSOLUTE KILLER. You were given an early-morning call by the night porter, around 7pm. As there would be no time to have breakfast at the regular time, you had to go to a cafe across the road, and get one there. When you returned, you were making almost continuous announcements from 8am till midnight. The announcements were so frequent that you were virtually tied to the mic', and barely had time to turn around and spit (and I've cleaned that term up). Believing there was no justification for making me stay up till 2pm, then knock me out of bed at 7pm, I refused to do the Sing-along, and stated that I thought it only fair that I be allowed to retire to bed at midnight. After consultation with Ron Stanway and Alan Ridgway, who had come to the hotel for the Finals (or maybe to grab-a-granny), my request was granted. One - to me! So, come midnight, I was about to go and get my head down when a guest brought me two bottles of Guinness as a "Thank You" for the Entertainment I had given him and his party during the week. Spotting me at the bar at ten minutes past midnight the security man, Ken, grabbed the bottles and told the barman to pour them down the sink. The holidaymaker protested and insisted that he had bought me the drinks, and he wanted to witness my drinking them, to which I duly obliged. Two - to me. However, word had spread that I had caused a scene at the bar (not true) and Alan Ridgway told me it had been decided that I be sacked. "I sent you here to do a job," he told me, "and you didn't do it." Not true again. I'd done a very good job. The problem was, the management had waived my well-being in order to it to satisfy a load of drunks who wanted to stay up half the night. [If you want to know why the kids of today get drunk out of their heads at every opportunity, take a look at their grandmothers.]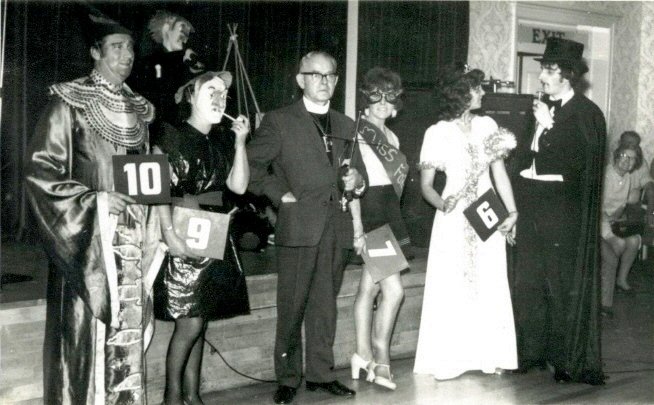 This is part of the line-up of the Halloween Fancy Dress Parade,
compered by Dracula. Some say I look better with the make-up on.
I'd done a lot of talking on the microphone during my twelve weeks at the Metropole, but bar-takings speak a whole lot more, and so I was the one to go. C'est la vie. No regrets! I was leaving with three hours of comedy material, which was to stand me in good stead for fifteen years when, in June 1975 I turned full-time professional Comedian.
Thank you Butlins. And I mean that. They were great days.
("A.J" Marriot - October 2007)
o-o-o-0-o-o-o
REDCOAT LINE-UP
Redcoats I worked with at the Metrople during my time there include:
Sean Lennard, Mary, Val Savage, Michelle (No.2)
Nick Horne and Michelle Brown (left 28 September, and were replaced by)
Alan O'Brien and Carole Cooper.
Mal Rich (who went on to find some success as a Scouse comic)
Ents. Manager - Ricky G. His Asst. - Bill
Les Brown (Organist in Regency), Derek Ashton (Organist in Metropole Suite)
VISITING CABARETS
Ricky Leighton, Malcolm Powell, Eddie Melville,
Eddie Archer, Miles & Bridget, Larry Broad,
Jean & Barry McQueen, Gordon Lorenz,
Billie Beck, Nigel Anderson, Mike Coyne,
Leslie Melville, Bernie Mann, Roy French,
Joan Sherry, Barry Bennet, Stevie Faye.
If you have any photos or memories that you wish to share,
please e-mail them to me via the following e-mail address:
skegness1973@aol.com
o-o-o-0-o-o-o