BUTLINS SKEGNESS REDCOAT MIKE 1975
BUTLINS - FOR ALL THE FAMILY
Millions of familes have had holiday at Butlins, but how many have families who have worked there? Mike Martin has. His Uncle Bill (Martin) was a comedian, and one of the top Entertainment Managers at Butlins from the 1950s until 1971. His brother Ray was Redcoat, Asst. Ents., and Compere during three seasons at Butlins; and Mike met his wife Val when both were Redcoats. Although not related to this Butlins' story, it is interesting to learn that Mike's dad, George Martin ("The Casual Comedian") was the sole writer, for 13 years, of all the scripts, songs and stories of the original BBC "Basil Brush Show."
Thankfully, Mike has not sought to claim royalties on my use of the Basil Brush character during my time as a Redcoat.(AJM)
MIKE MARTIN
in his own words
My elder brother Ray had been a G.D. Redcoat at Barry Island in 1971 and came back with so many good stories, that I was tempted to join him the following summer. (Our Uncle Bill had been working for Butlins since the 50s and once had a double act with comic Dave Allen, who was a Redcoat at the time. Bill went on to become a senior manager for the company, leaving just as Ray started.)
Brothers Ray and Mike Martin winning the "Lovely Hair" Competition
I was at Art College in Guildford, Surrey, having just commenced a 3-year course in Film & Television Production but, in July 1972, I was free to spend the summer break working at Butlins. As stated, I went to Barry where Ray was now Asst. Ents. Manager.
No! It's not a Gypsy wedding.
That's Ray and me serenading Brian Ward, and a young lady.
(Barry 1972)
I absolutely loved that summer, and it is no exaggeration to say that it changed my outlook on life. The bonhomie, sense of fun and general ambience was such a contrast to the cynical art students I was at college with. When I returned to my course in the winter, many sneered at me for having worked at the camp, but I dug my heels in and defended it. The atmosphere of the Butlins working environment was much more for me, although I took my film studies very seriously.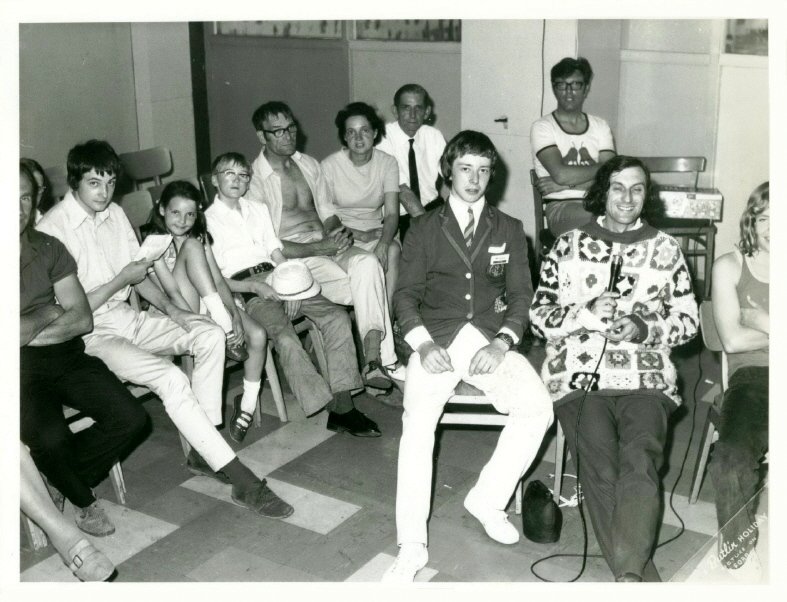 Either everyone is waiting to the see the doctor, or we are watching
the Wrestling, with Mike Onions compering. (Barry 1973)
I returned to Barry to work that Christmas and had a great time. Needless to say, I was back at Barry again the following summer where I met Val who I eventually married (in 1978). 1974 saw me working a season at a small holiday camp in Devon, as a bluecoat/entertainer. This was a very small set up, a complete contrast to Butlins, and I had gone there because my Uncle Bill was involved with it, and had recommended me.
LATE KNIGHT CABARET
That's me and Colin, star-struck, with the 'Barron Knights.'
Back to Barry for Christmas '74, then, for a change I tried Skegness in 1975 - my first complete season, as I had finished my course by then. Ray was the compere there that year. I don't know why exactly, but I didn't really enjoy that season very much. Perhaps I was getting tired of it by then, but I think it was mainly because the majority of Reds there were cliquey. I gave it all one last go that Christmas, 1975, when I went back to Barry.
And here are Ray and Mike again, this time with a few birds they've pulled.
(Skegness 1975)
Throughout my Butlins' years, I was always involved in the Redcoat shows and cabarets, compering when I could and indulging in mad stunts like "the ever growing plant" gag and the "Round Britain Relay." Although I came from a showbusiness family, the whole experience taught me a lot and set the scene for my path in life.
I am still fully pro' in the entertainment profession as part of the musical comedy band "THE LONDON PHILHARMONIC SKIFFLE ORCHESTRA." (click on the link). You can contact me at the following email address: martinmgm5@aol.com
Mike Martin
**********************************
VAL MARTIN
I was a secretary working in a London office when I first went to Butlins Barry Island for the whole season of 1973.
Here's the lovely Val, with a face that brought
joy to a million male campers. (Barry 1973)

And here's the lovely Val in the Redcoat Show.
(Blackpool Metropole 1974)
After a brief shaky start, when I thought I might regret it, I soon made some great friends and knew it was for me. Half-way through the season, I met Mike when he arrived to work his college summer break. The following Easter I worked at Bognor Regis, and then the "Horse of the Year Show" at Wembley, representing Butlins. I also appeared on stage at the London Palladium for various presentations.
End of Season Party
In the Olde Days, people knew HOW to party!!
Second from left, on balcony, is Ray Martin. Mike Martin and Val are front centre.
(Barry 1973)
Mike and I stayed together (and still are), but we decided to try different camps the following summer, 1974. I went back to Barry but got disillusioned and transferred half-way through the season, to the Metropole Hotel in Blackpool. Before the end of the season, I left and went down to Devon to join Mike. That Christmas we worked together at Barry. When Mike went to Skegness in 75, I went back to Barry Island.
I have very fond memories of those times.
Val Martin (nee Savage)
o-o-o-0-o-o-o
See also:-
BUTLINS BLACKPOOL 1974 - Val Savage
BUTLINS SKEGNESS REDCOATS 1975