When the Butlin Bug First Bit
In the summer of 1966, I was sixteen years old, and went on my first holiday without any parental or adult supervision. The venue was Butlins Holiday Camp, Pwllheli, and my travelling companions were two of my former classmates from junior school. It was a whole new world. On the first night my friend Ian Lancaster and I had two pints of bitter and were pleasantly sloshed. For the next couple of hours we stumbled around the camp, speaking to every one of the hundreds of girls who seemed to just keep swimming towards us - although, in reality, the only things swimming were our eyes. However, no one rebuked us, threatened us, or told us we were banned, and so we stuck to the same formula for the whole week. It was the first time we had been treated as adults, and the freedom we enjoyed was an immeasurable confidence booster for our juvenile egos.
BUTLINS PWLLHELI 1966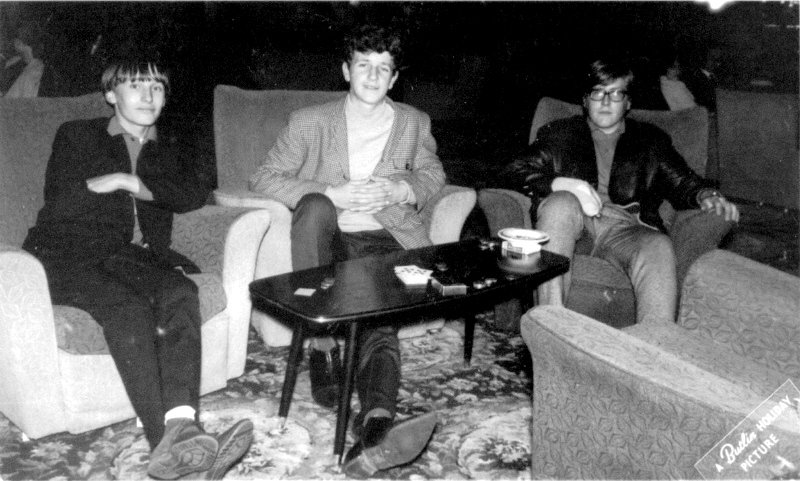 And here are the three of us - Ian, me, and Jonathon.
Note on the table the cards, money and Benson & Hedges.
Study the photo above, and then this one, and you can
pretty well place where we were sitting.
Here's a couple of lads from Nottingham who I met up with. The one on the left worked in a barbers shop, and brought with him a whole box of condoms which he shared around. I've still got mine!
I know this train is supposed to be for kids and parents,
but we went on it anyway – and who wouldn't. It was a great ride.
BUTLINS PWLLHELI RAILWAY
Here's me again, treating a lovely young lady to a drink,
following a visit to the Empire Cinema.
So how about that for a holiday for three sixteen year-olds?
Gambling, Fags, Beer, and Birds on tap. Unbeatable!
The only thing better than going on holiday for a week there, was to go there for a whole season, and GET PAID FOR IT. And that is exactly what I did.

See also:
BUTLINS SKEGNESS 1973 - Adult Competitons
BUTLINS SKEGNESS 1974 - Kids' Competitons
o-o-o-0-o-o-o