BUTLINS BRIGHTON REDCOATS 1962
Ocean Hotel, Saltdean
JOHNNY MANS
Long before the US adopted Jim Carey as their favourite rubber-faced clown,
Butlins had its very own:
'JOHNNY MANS - a face for every occasion.'
BUTLINS OCEAN HOTEL, SALTDEAN
Postcard photo taken by D. Noble, John Hinde Studios

BUTLINS OCEAN HOTEL, SALTDEAN
Rear view, and Pool
Here's Johnny looking smart and debonair,
in front of the Ocean.

And here's Johnny looking wet and bedraggled,
at the rear.
BUTLINS OCEAN HOTEL, SALTDEAN 1962
How's this for a Redcoat line-up?
Back Left: Irishman MIKE TOMKINS, who later changed his name to Mike Newman,
and found fame as a comedian on TV in "3-2-1."
Back centre: AL DEAN who later found fame as a scouse comic - coming second in the
All-Winners' Final of New Faces - to the series winner, Marti Caine.
Back Right: MITCHELL NOON (son of Jimmy Noon)
Front Left: PETER MILLINGTON - who worked as singer and pianist/organist entertainer in
Blackpool for most of his later career.
Second Left: JOHNNY MANS (*see above) - after several seasons with Butlins, spent his later stage
career as a Comedian, before becoming an Agent/Producer/Theatre Impresario. Among his clientele was
showbusiness legend Norman Wisdom, whom Johnny was been personal manager to for thirty years.
Front Centre: JIMMY NOON
Second Right: NORMAN BRENNER - who became comedian "Norman Norman."
Far Right: KEN WOOD who, in 2008, is still working as a ventriloquist.
Redcoat PETER ROBERTS seems to be treating the Prize-Giving with some decorum,
whilst PETER MILLINGTON (centre) and JOHNNY MANS (right)
think a little mugging would liven up the occasion.
Two guests finding favour with Liverpool singer PETE KELLY (centre)
and comedy entertainer JOHNNY MANS.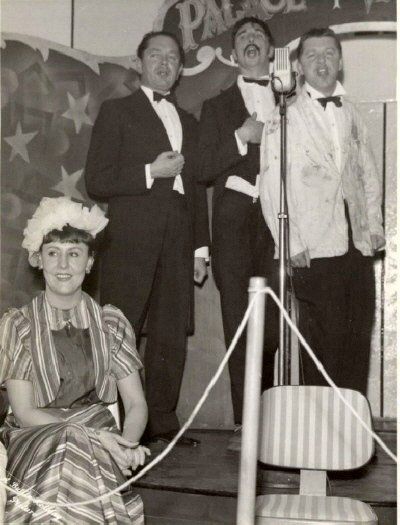 BUTLINS OCEAN HOTEL, SALTDEAN
CHRISTMAS 1962-63
A Night at the Palace of Varieties
Pictured Left to Right:
LYNDA NOON, JACK REID,
JOHNNY MANS, MIKE TOMKINS (later Newman)
See also:
BUTLINS BRIGHTON 1959-62 - Carol Lupton
BUTLINS BRIGHTON Winter 1961-62 - Valerie Round
Other BRIGHTON Team Photos
BUTLINS BRIGHTON REDCOATS 1961
BUTLINS BRIGHTON REDCOATS 1962
We are sincerely grateful to the photographers who took these pictures,
and preserved them as windows to the past, and to Johnny Mans for sharing them.
You can find more Butlins pictures of Johnny at these links:
BUTLINS MARGATE 1964 - 1967 - Johnny Mans
BUTLINS BLACKPOOL METROPOLE 1965 - Johnny Mans
To see what good use Johnny Mans has put all his Butlins' training to, go to:
o-o-o-0-o-o-o