FRANKIE SPEAKING - Part 1

By Frankie Bull
I remember very clearly my first ever contact with Butlins: I was a camper at Filey in 1962 and followed this with a holiday at Butlins Skegness in 1963. Aged 16 I entered, and won, the 'News of the World Talent Quest' at Filey, a feat I repeated the following year. I 'pinched' (read as 'borrowed') the cornet from school, and it seems my rendition of Tavern In The Town went over well with the judges
I befriended Redcoats at Skegness, who encouraged me to sign up with Butlins and so I went, in early 1964, for my audition in Manchester. Bill Martin was the manager in question, and Peter Millington (later my manager at the Ocean Hotel, Saltdean) the pianist. I got the position I wanted, but it was at Pwllheli. Fate moves in mysterious ways, as I found out later.
JAZZ BAND PARADE
Leading left - Rob Peddie (aka Peter Kane ); Right - Selwyn Bowen; Frankie Bull on trumpet (in stripes); Maeve Allen carrying the balls; Graham 'Johnny' Eagland on clarinet; Dave Moore on banjo.
Band Parade. L-R: Johnny Nock, Brian Powers (banjo), Judy Hardman, Tommy Kilgallon (tuba),
Maeve Allen, Frankie Bull (trombone), Al Cosgrove (Bandmaster), Jimmy Ingram (trumpet).



And here is yet another 'band' photo. Why I kept changing costumes, and instruments, I don't know.

Al Cosgrove and me, Frankie Bull, with young camper.
My trombone seems to have grown quite a bit!

I arrived at the Pwllheli Camp the second week in May 1964. I deliberately got there a day early, I was so keen. I recall the bed in my chalet (from memory on M line, South Camp, just down from the Sports Stadium) was very damp because the beds hadn't been aired. It was almost like sleeping in the boating lake.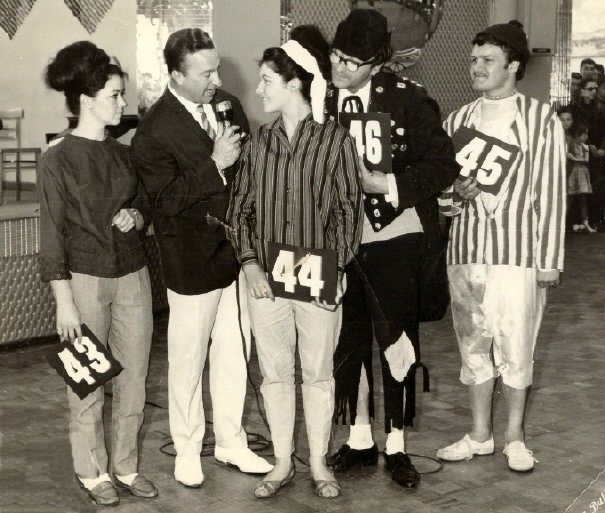 Eric Bentley interviews two contestants in the 'Miss She' Contest,
while Al Cosgrove and Frankie Bull 'help out.'
I met Bill Martin and Roger Roberts and I think we had a few drinks.
Johnny Nock and Frankie Bull lifting one of the contestants in the 'Miss Che Che' competition.
Either Nocky is giving me a dirty look, or he's struggling under the weight.
My first detail later that week was to paint the lines on the tennis courts. I had one pair of trousers, which were the bottom half of my new blue suit, and I got white paint on them. Not happy about that! I couldn't wait for the issue of our Redcoat uniform, which came a couple of days later.
Whoever did the details kept putting me on Bingo, in the Continental Café on South Camp. I used to tell a lot of good (clean) jokes to keep the campers happy, but the trouble was I lost my voice after about three constant weeks of Bingo. I couldn't speak, or sing on the Redcoat Show, and so I finally said something to management about the Bingo detail. The daily details were changed immediately.
I quickly made a lot of friends with fellow Redcoats and settled well into Butlin life, with 1964 being the foundation of my Butlin time. Before any thoughts of leaving at the end of the season plunged me into a depression, I was given the news that I was being retained, and sent to the Ocean Hotel, Brighton, for the Winter season. This is considered a great privilege for a first-year Redcoat, so I was particularly surprised and, and more chuffed than if I'd been told the 1st, 2nd, and 3rd in the Holiday Princess all wanted to marry me. (Mmmmmm!)
Frankie Bull