BUTLINS SKEGNESS 1950 1957
CAMPERS' CORNER - The HOLMES FAMILY
HOLMES FROM HOME
Hello! My name is Penny Holmes, and you may say that I was brought up at Butlins.
My mum and dad took us to Butlins almost every year between 1947 and 1957 inclusive -
after which I went back to Butlins, but under rather different circumstances. But more of that later.
Our Butlins holidays alternated between Filey and Skegness. Below are just the Skegness snaps.
SKEGNESS 1950
ALL FOR LAWN
My Dad, me (Penny), my little sister Lynne, and Mum
on the lawn outside the dining room. It was always sunny at Butlins.
SKEGNESS 1950
Sister Lynne, me, and a friend.
That poor hobby horse had been
there since at least 1947, and
was looking ready for retirement.
SKEGNESS 1950

Whenever people see water, they always have
an irresistible urge to deposit coins in there.
I think that's why my Mum called me "Penny,"
as I have always had an attraction to water.
SKEGNESS 1950
That's me - No.77 - in the "Junior Miss" competition.
Just visible, behind me, is Uncle Boko.
SKEGNESS 1950
Lynne as "Annie Get Your Gun" in the Fancy Dress competition.
SKEGNESS 1950
SKEGNESS 1951
SUN, SEA and SAND
Inside the Butlins Camp wasn't the only place to have fun.
Here we are on the beach with some family friends, having a great time.
SKEGNESS 1951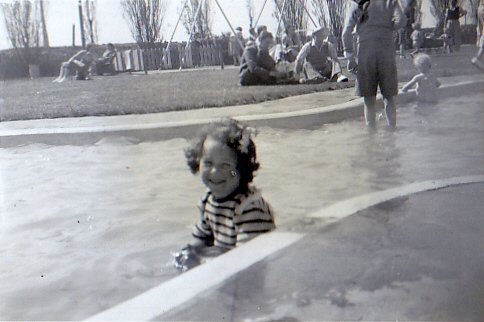 PADD-LYNNE POOL
"My sister Lynne, too, was a "water baby."
SKEGNESS 1951
Me on the left, topically dressed as "The Festival of Britain"
in the Fancy Dress comp. I didn't win - again! Aww - shame!
SKEGNESS 1951
SKEGNESS 1952
THE GENERATION GAME
Three generations of the Holmes Family, on Skegness Beach.
SKEGNESS 1952
Granddad Holmes and granddaughter Lynne -
the oldest and youngest of the Holmes Family.
SKEGNESS 1952
My sister and I found this beautiful baby, and decided
it was much more fun than playing with dolls.
Sadly the mother soon claimed him back.
SKEGNESS 1952
No! we're not poor kids having to wear hand-me-downs.
That's me left and sister Lynne right, in our Fancy Dress costumes.
SKEGNESS 1952
Lynne looking thrilled to be showing off her best frock. (No.57)
SKEGNESS 1952
And that's me, Penny (No.119) wearing the same dress, but next size up.
(The other girls would need the next size up after that!!)
SKEGNESS 1952
SKEGNESS 1954
Maternal love
SKEGNESS 1954

Paternal love
SKEGNESS 1954
Fun on a bike
SKEGNESS 1954

Fun on a lake
SKEGNESS 1954
Is this a real elephant Lynne is sitting on?
I can't remember.
(Maybe I should ask the elephant!)
SKEGNESS 1954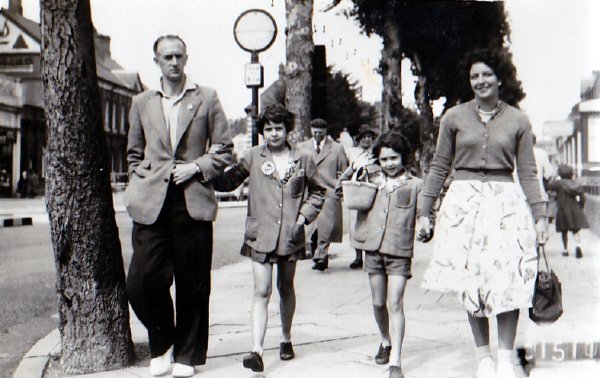 This looks very much like Minehead town, but it must be Skegness town.
Can't think how we came to be photographed.
SKEGNESS 1954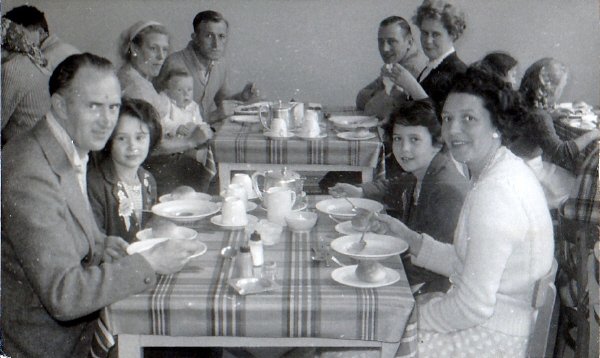 This isn't how most people remember the Butlins dining room.
They were normally arranged to sit eight people,
and the crockery had the Butlins emblem printed on it.
Or maybe that came later. Can anyone clarify??
SKEGNESS 1954
SKEGNESS 1957
Before you ask who that little boy is - it's ME!
(Going through my tomboy phase.)
Either I'm on the boating lake, or the camp is flooded.
SKEGNESS 1957
There must be a very thin person behind that tree.
SKEGNESS 1957

My little sister Lynne, who has now become a little miss.
SKEGNESS 1957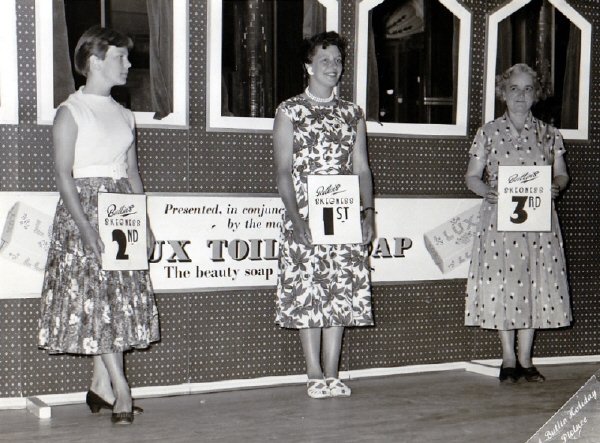 My mum winning: "The Girl with the Best Cared For Complexion"
- sponsored by Lux soap.
(That is the genuine name of the competition.)
SKEGNESS 1957
See also
The Holmes Family at FILEY 1947 to 1956
I hope you enjoyed sharing the Holmes Family snaps, from our many fabulous holidays at Butlins. But there are a few chapters to the story of my Butlins' days that I haven't yet told. To discover how I lived my dream, go to the links below:
Penny Holmes
(March 2012)
WHAT PENNY DID NEXT
BUTLINS MINEHEAD 1962 - Penny Holmes